Web Accelerator Users Guide
Launching the Accelerator
Accessing the User Interface
Setting Username and Password
Changing Image Quality

Your web accelerator will launch automatically each time you start your computer. When the web accelerator is running, a taskbar icon will appear in the Windows system tray (see right image).
If you need to start the software manually, an icon titled "SlipStream Web Accelerator" is located in the Windows Start Menu under the SlipStream folder.
While your web accelerator will already be setup for optimal performance, you do do have the option to adjust the settings, view connection status or acceleration statistics.
To access the user interface features, click on the SlipStream Web Accelerator icon in the system tray. A pop-up menu will appear (shown below) which lists all software features.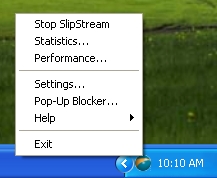 Your username and password information is located in the Connection Status dialog. To set your username and password:
1. Right-click on the taskbar icon and select "Settings..." from the menu.
2. Click on the "Connection" tab.
3. Enter your username and password in the fields provided.
4. Check "Save password" (optional).
5. Save your settings by clicking OK.
You have the option to change the quality of images that appear in your web browser. Because higher quality images take longer to load, you will increase your download speeds by lowering the image quality.
1. Right-click on the system tray icon.
2. Select "Settings...".
3. Select the "Image Quality" tab.
4. Use the slider bar to adjust the image quality.
5. Click OK to save your settings.
If browsing with Internet Explorer you can right-click on an image and select "Show Original Image" from the menu (shown below). You may also select "Show All Original Images" to view all full-quality images on the entire page.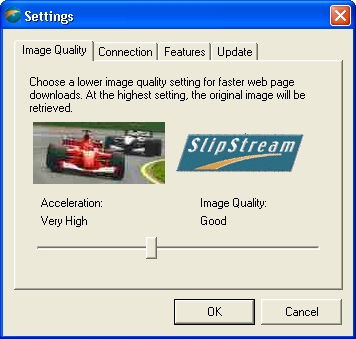 Please contact support if you require additional assistance with your Web Accelerator.